Meet Dr. Erene Iskander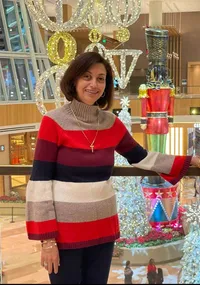 Dr. Erene Iskander was born and raised in Egypt where she graduated from University of Alexandria where she earned her Bachelor of Dental Surgery (BDS) degree. Dr. Iskander came to the United States in 2004 and attended New York University College of Dentistry where she obtained her second academic dental degree, Doctor of Dental Surgery (DDS).
Dr. Iskander enjoys spending time with her husband, Ashraf, and three children in Clifton, Virginia. When she is not practicing dentistry, Dr. Iskander enjoys reading and participating in church activities at St. Mark's Church in Fairfax, Virginia. Dr. Iskander also gives back to her community by providing free dental care through the Saint Mark's Hope Clinic in Fairfax.
A resident of Clifton, Virginia, Dr. Iskander became familiar with the Warrenton area while practicing dentistry in Culpeper from 2012 – 2015where she received the prestigious Heartland President's Dental Club award. When asked why she chose the Warrenton area to open her own practice, she stated that she found Warrenton to be such a warm, welcoming and family-friendly community and that she wanted to become a part of that. Dr. Iskander is looking to create long-term relationships with her patients, as well as their families.
When asked what she enjoys most about being a dentist, Dr. Iskander statedthat she loves being able to offer patients immediate visible results, and relief from pain. She also enjoys working with patients who are fearful of dentists and alleviating their fear before beginning any dental procedures. Dr. Iskander believes that fear of dentists usually comes from not understanding what the dentist is going to do, Dr. Iskander explains what she will be doing, then shows them so there are no surprises.
Dr. Iskander is a proud member of the Fauquier Chamber of Commerce, the American Dental Association Northern Virginia Dental Society, and the Virginia Dental Society.
Dr. Iskander strives to provide her patients with a pleasant dental experience while addressing their concerns, and sheis fluent in both English and Arabic.